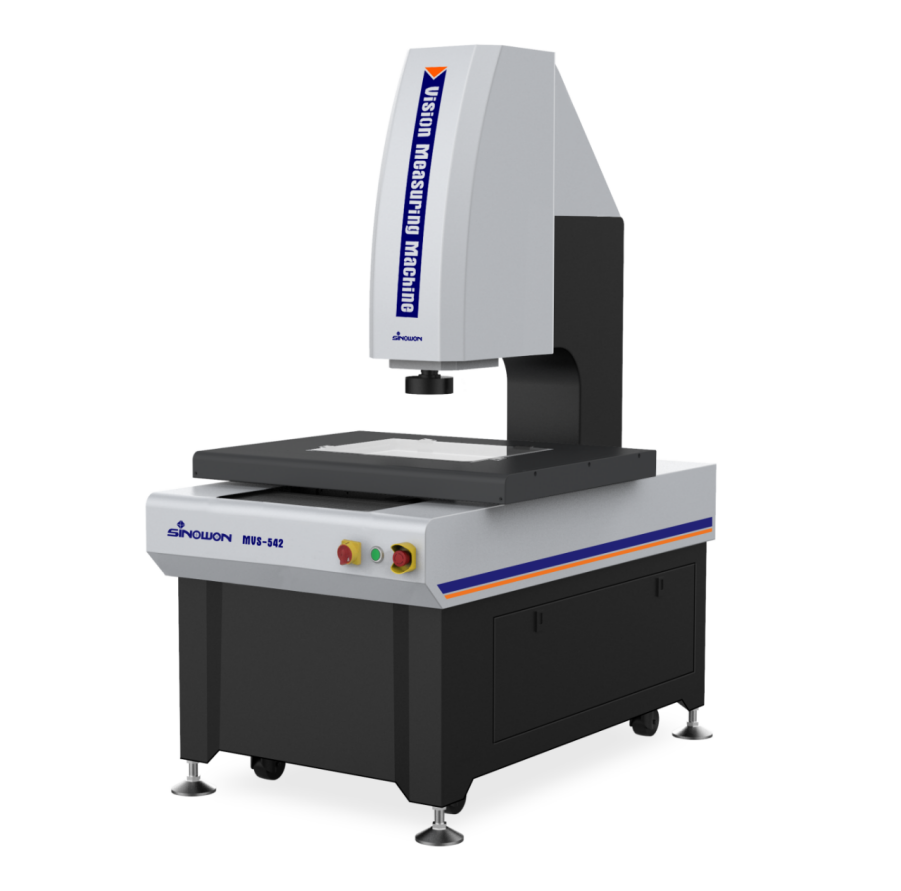 MVS-542 series is a cantilever high accuracy fully automatic vision measuring machine developed for GD&T measurement with three axis automatic motorized control. It equipped with automatic focusing, automatic lighting control, and automatic movement of hardware and software configuration to make the measurement of linear and geometrical dimensions quickly and accurately.
Product Characteristics
◆ XYZ three-axis CNC automatic precision control, precise positioning;
◆ Indian Marble base and pillar, good stability;
◆ Precision linear guides, grinding-grade ball screws and AC servo motors, etc., ensure the accuracy and stability of the motion system;
◆ 0.5μm high-precision grating ruler to ensure the positioning accuracy and measurement accuracy of the system;
◆ High-resolution digital camera to meet the needs of clear observation and precise measurement;
◆ 8.3X high-definition optical lens, accurate zoom, one-time pixel correction;
◆ Program-controlled 5-ring 8-area LED surface illumination and parallel LED contour illumination system intelligently realize 256-level brightness adjustment;
◆ iMeasuring series automatic Vision measurement software, powerful and easy to operate.
Technical Specification
Commodity

2.5D Automatic

Vision

Measuring Machine

3D Automatic

Contact & Vision

Measuring Machine

2.5D Automatic

Laser-Scan & Vision

Measuring Machine

3D Automatic

Multisensory

Measuring Machine

Model

MVS-542A

MVS-542B

MVS-542C

MVS-542D

Code#

523-120J

523-220J

523-320J

523-420J

Sensor-Type

A: One-Sensor

Optical

Zoom-lens

Sensor

B: Twin-Sensor

Zoom-lens Sensor

and

Contact Probe Sensor

C: Twin-Sensor

Zoom-lens Sensor

and

Confocal Laser Sensor

D: Tri-Sensor

Zoom-lens Sensor

Contact Probe Sensor

Confocal Laser Sensor

X/Y-axis Travel

(500*400)mm

Z-axis Travel

200mm

X/Y/Z-3 axis Linear Scale

European Linear Scale Resolution: 0.5um

Guidance Mode

P-Class Precision linear guide, double-track double slider guide.

Operation Mode

Joystick controller, Mouse operation, automatic detection program.

Accuracy*

XY-axis:≤2.2+L/200(um)

Z-axis:≤5.0+L/200(um)

Repeatability

±2um

Video System**

1/2.9"/1.6Mpixel High Resolution Digital Camera

8.3X Manual Electronic Feedback Lens

Optical Magnification: 0.6X~5.0X; Video Magnification: 20X~170X (21.5" monitor)

Field of

View(mm)

(D*H*V)

Magnification

0.6X

1X

1.5X

2X

2.5X

3X

3.5X

4X

4.5X

5X

1/2.9"CCD

10.35x8.28x6.21

6.21x4.97x3.73

4.14x3.31x2.48

3.11x2.48x1.86

2.48x1.99x1.49

2.07x1.66x1.24

1.77x1.42x1.06

1.55x1.24x0.93

1.38x1.10x0.83

1.24x0.99x0.75

Illumination

System

Contour

LED parallel contour illumination

Surface

0~255 Stepless adjustable 5-ring 8-division LED surface illumination

Measuring Software

iMeasuring Software

Load Capacity

25Kg~50Kg

Working Environment

Temperature 20℃±2℃, temperature change<1℃/Hr; humidity 30%~80%RH; vibration<0.02g's, ≤15Hz.

Power Supply

220V/50Hz/10A

Dimension (W*D*H)

1257x920x1640mm

Packing Size

1450x1170x1900mm

Net Weight

600Kg
Note:
L is measured length(mm), the mechanical accuracy of Z-axis and focus accuracy is greatly related to the surface of the workpiece.
**Magnification is approximate value, it is related to the dimension of monitor and resolution.
Field of view(mm) = (diagonal*Horizontal*Vertical)
0.5X or 2X objective is optional available and realize image magnification: 13X~86X or 52X~344X.
Configuration List
Model

Effective Measurement Travel mm

Dimensions (L*W*H) mm

X-axis

Y-axis

Z-axis

Machine dimensions

Package dimensions

MVS322

300mm

200mm

200mm

(1146*720*1664)mm

(1290*970*1920)mm

MVS432

400mm

300mm

200mm

(1331*840*1664)mm

(1390*1060*1940)mm

MVS542

500mm

400mm

200mm

(1257*920*1640)mm

(1450*1170*1900)mm