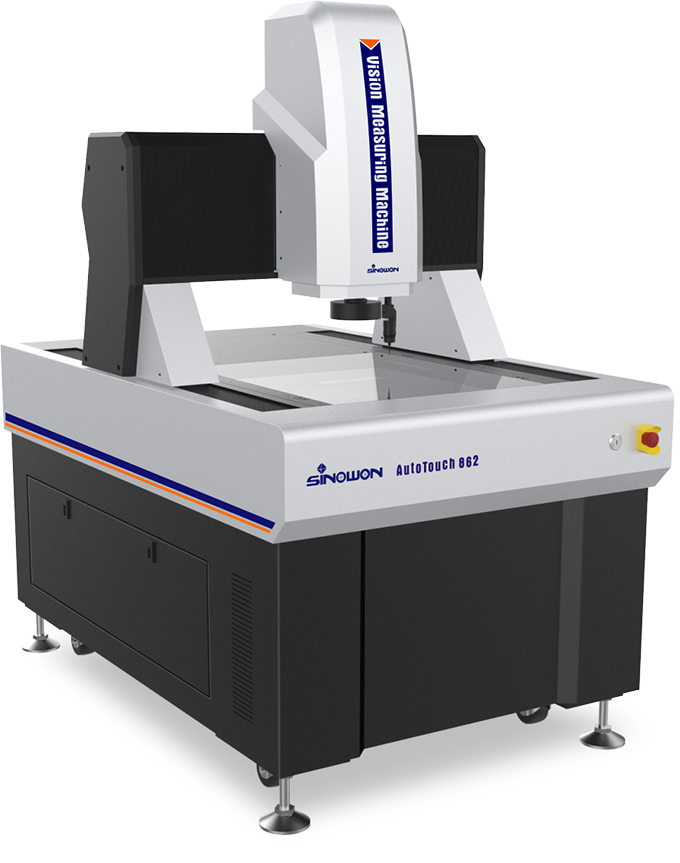 AutoVision862 Series is a Gantry Fully Auto Vision Measuring Machine, it is designed for high accuracy and large dimension measurement. Equipped with movable bridge structure, the workpiece is fixed, which can ensure measurement accuracy and stability. It is widely used in electronic industry, medical devices, LCD, aerospace and other industries measurement.
Product Characteristics
◆ Moving Bridge type structure, measuring workpiece is fixed;
◆ Four-axis CNC fully auto close loop control, auto measurement;
◆ Indian Marble base and pillar, good stability;
◆ Imported RSF linear scale, resolution is 0.1um, grinding ball screw and AC servo motor etc. to ensure the precision and stability of the motion system;
◆ Imported HD color camera to meet the needs of clear observation and accurate measurement;
◆ 8.3x high-resolution motorized coaxial zoom lens, accurate doubling and one times pixel correction only needed;
◆ With programmable surface 5-ring 8-division LED Cold Illumination and contour LED parallel illumination and built-in intelligent light adjustment, it can automatically control the brightness in the 8-division;
◆ Powerful function and easy operation iMeasuring Software to enhance quality control;
◆ Optional MCP Probe and Laser Senser Module. Machines can be customized according to customers' requirements.
Technical Specification
Commodity

2.5D Automatic

Vision

Measuring Machine

3D Automatic

Contact & Vision

Measuring Machine

2.5D Automatic

Laser-Scan & Vision

Measuring Machine

3D Automatic

Multisensory

Measuring Machine

Model

AutoVision862A

AutoVision862B

AutoVision862C

AutoVision862D

Code#

523-180L

523-280L

523-380L

523-480L

Sensor-Type

A-Type: One-Sensor

Optical

Zoom-lens

Sensor

B: Twin-Sensor

Zoom-lens Sensor

and

Contact Probe Sensor

C: Twin-Sensor

Zoom-lens Sensor

and

Confocal Laser Sensor

D: Tri-Sensor

Zoom-lens Sensor

Contact Probe Sensor

Confocal Laser Sensor

X/Y-axis Travel

(800*600)mm

Z-axis Travel

200mm

X/Y/Z-3 axis Linear Scale

European Linear Scale Resolution: 0.1um

Guidance Mode

P-Class Precision linear guide, double-track double slider guide.

Operation Mode

Joystick controller, Mouse operation, automatic detection program.

Accuracy*

XY-axis:≤1.8+L/200(um)

Z-axis:≤4+L/200(um)

Repeatability

±2um

Video System**

1/1.8" High-Definition Digital Color Camera

8.3X Motorized Zoom Lens

Optical Magnification: 0.6X~5.0X; Video Magnification: 20X~170X (21.5" monitor)

Field of

View(mm)

(D*H*V)

Magnification

0.6X

1X

1.5X

2X

2.5X

3X

3.5X

4X

4.5X

5X

1/1.8"CCD

14.72x11.78x8.83

8.83x7.07x5.30

5.89x4.71x3.53

4.42x3.53x2.65

3.53x2.83x2.12

2.94x2.36x1.77

2.52x2.02x1.51

2.21x1.77x1.33

1.96x1.57x1.18

1.77x1.41x1.06

Illumination

System

Contour

LED parallel contour illumination

Surface

0~255 Stepless adjustable 5-ring 8-division LED surface illumination

Measuring Software

iMeasuring Software

Load Capacity

25Kg~50Kg

Working Environment

Temperature 20℃±2℃, temperature change<1℃/Hr; humidity 30%~80%RH; vibration<0.02g's, ≤15Hz.

Power Supply

220V/50Hz/10A

Dimension (W*D*H)

(1157*1818*1590)mm

Packing Size

(2300*1700*2000)mm

Net Weight

2000Kg
Note:
L is measured length(mm), the mechanical accuracy of Z-axis and focus accuracy is greatly related to the surface of the workpiece.
**Magnification is approximate value, it is related to the dimension of monitor and resolution.
Field of view(mm) = (diagonal*Horizontal*Vertical)
0.5X or 2X objective is optional available and realize image magnification: 10X~64.5X or 40X~258X.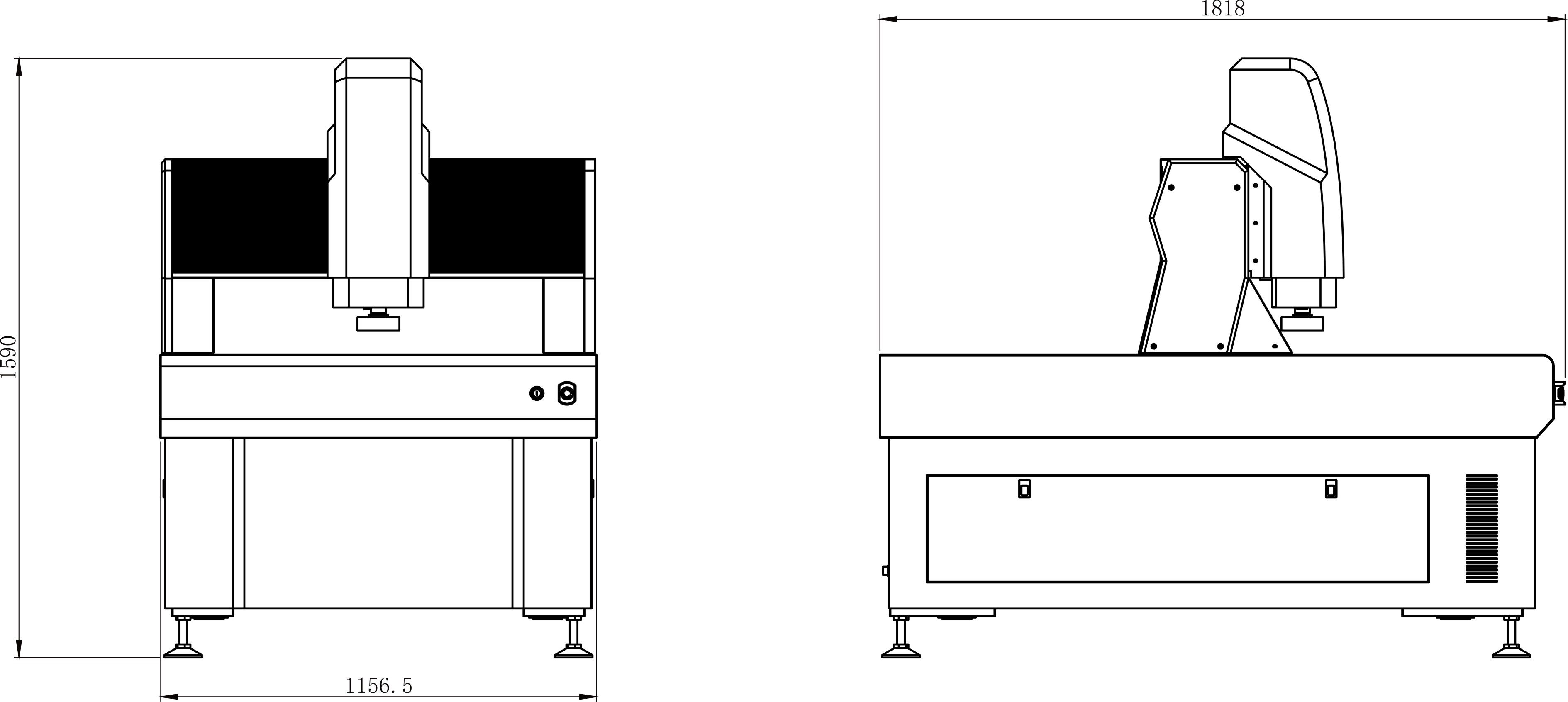 Model

Effective Measurement Travel mm

Dimensions (L*W*H) mm

X-axis

Y-axis

Z-axis

Machine dimensions

Package dimensions

AutoVision432

300mm

400mm

200mm

(832*1195*1579)mm

(1380*1170*1650)mm

AutoVision542

400mm

500mm

200mm

(940*1463*1591)mm

(1690*1300*2000)mm

AutoVision652

500mm

600mm

200mm

(1040*1568*1591)mm

(1800*1400*2000)mm

AutoVision862

600mm

800mm

200mm

(1157*1818*1590)mm

(2300*1700*2000)mm

AutoVision1082

800mm

1000mm

200mm

(1357*2018*1790)mm

(2500*1900*2200)mm