1. Product Application:
Vickers method is based on an optical measurement system, it specifies a range of light loads using a diamond indenter to make an indentation which is measured and converted to a hardness value. It is very useful for testing on a wide type of materials, but test samples must be polished to enable measuring the size of the impressions. A square base pyramid shaped diamond is used for testing in the Vickers scale. Typically MicroVickers loads are very light, ranging from 10gm to 1kgf, MacroVickers loads can range up to 50Kgf.
Micro Vickers hardness methods are used to test on metals, ceramics, and composites - almost any type of material. Since the test indentation is very small in a Vickers test, it is useful for a variety of applications: testing very thin materials like foils or measuring the surface of a part, small parts or small areas, measuring individual microstructures, or measuring the depth of case hardening by sectioning a part and making a series of indentations to describe a profile of the change in hardness.
2. Brief Introduction:
Sinowon AutoVicky ZHV-1050AF uses one controller and one PC to control two Hardness testers, one is AutoVicky ZVK-1000F Automatic micro Vickers and Knoop hardness tester with autofocus-system, another is AutoVicky ZHV-50A Automatic Macro Vickers hardness tester Both two-unit have equips with the motorized X-Y auto-stage, it has auto-measurement about the indentation of Vickers and Knoop, and it can make measurement of case depth automatically, it eliminates human operation error, largely improves working efficiency, makes hardness testing measurement more accurate and uncomplicated.

---
3. Product Characteristics:
Auto-stage, Auto-Turret, Auto-measurement and Vickers testing system;
Loading-force: Precise dead weights ensures the loading force system reliably and precisely;
Optical-path: High-resolution optical microscopy path makes image of indention sharply and excellent;
Auto-Turret: the switch position of Vickers indenters and 10x/20x objectives is repeatable and accurately;
Auto-stage: it is driven by precise step motor with large travel size 100x100mm and heavy load ability ;
Auto-Measurement: automatic hardness testing and measurement software:3A can control hardness tester and data communication, includes the switch of 10x, 20x objectives and Vickers indenter, auto loading, dwell and unloading, single or multiple indentation, set step distance, movement mode, auto record indentation dialog line and hardness value, auto generate CHD depth and hardness curve, error statistics, test times group statistics, generate Excel and Word format report.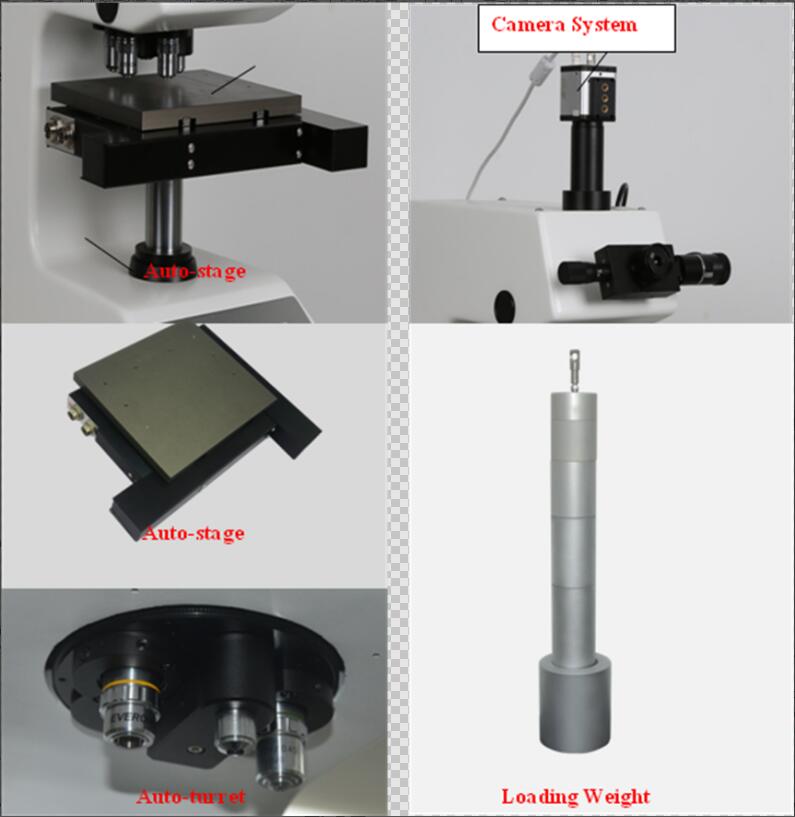 ---
4. Technical Specifications:
---
5. Automatic Measurement Software:
5.1 Software Interface: 3A
① Main Manu
② Toolbar
③ Hardness calculate module
④ Turret control module
⑤ Hardness tester information
⑥ Hardness tester working module
⑦ Movement control module
⑧ Coordinate display area
⑨ Scale
⑩ Image area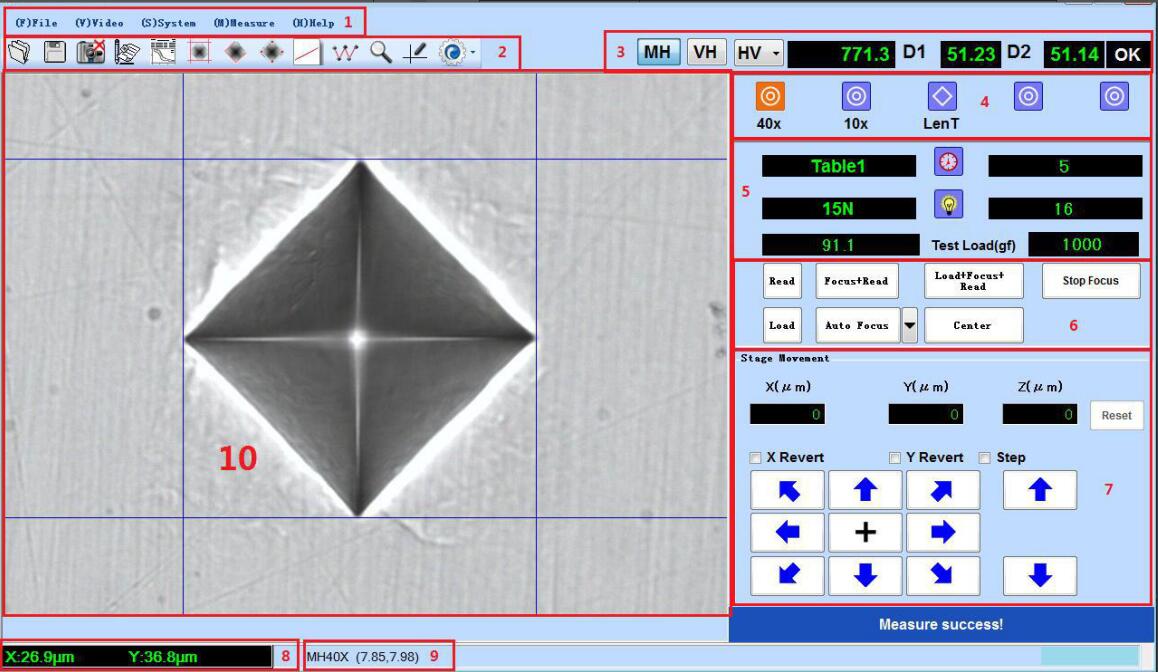 5.2 Machine Control
3A software is able to make the control of micro hardness tester, it can drive and setup the movement of X-Y auto-stage, and Z-axis auto-focus motor, and it can control the switch of the objectives and Vickers/Knoop indenter on auto-turret, it makes the loading/dwell/unloading automatically.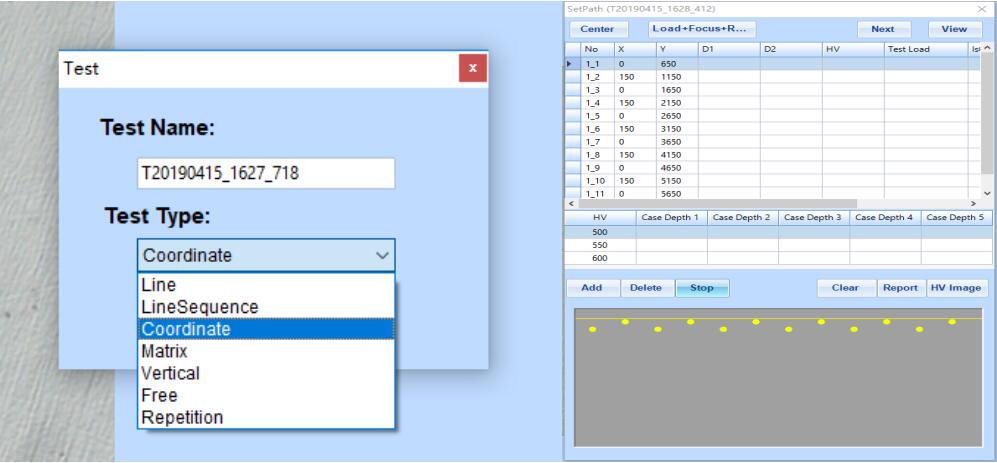 5.3 Auto Measurement
3A software is able to make the indention measurement automatically in auto-focus mode, the vis ual depth is 1mm, and focus-resolution is 0.2um, the speed of autofocus is less than 5-second, and the cycle of auto-focus and auto-measurement is within 8-second.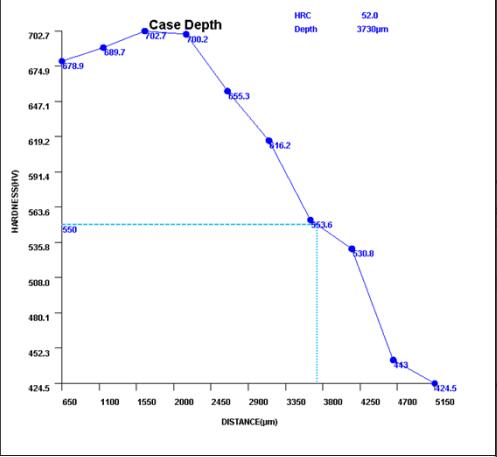 5.4 CHD-Measurement
3A software can make the measurement of case hardness depth programmly, it can auto-measure and make the CHD-report, and a depth-hardness curve is generated to perform functions such as measuring the nitriding layer of the part and measuring the carburized layer.
5.5 Route-plan-function
3A has the function of route plan, it can setup the select straight lines, zigzag lines, circles, arcs, random points, matrices, and it can be setup in different test sample requirements.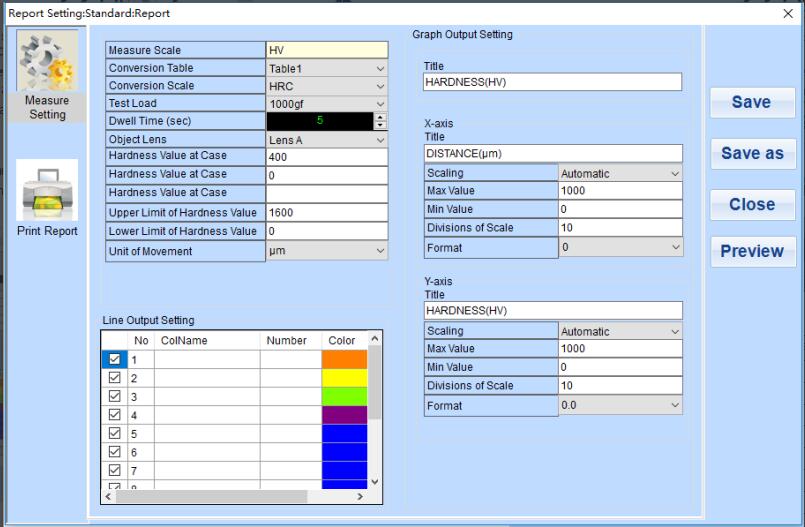 5.6 Data Management
The testing data can be stored to print, and test report comprises the mathematical statistics and hardened layer depth curves, as well as printed sample topography. Directly reflects the microstructure of the indentation and background.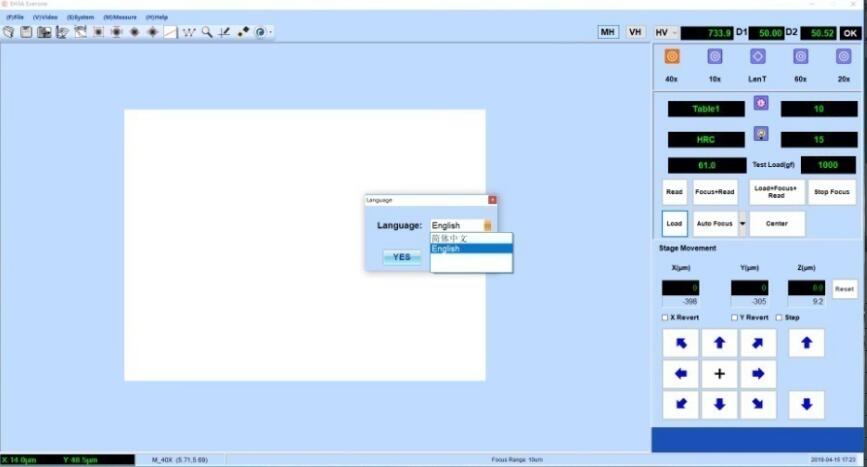 5.7 Multi-language
English and Chinese is available now, and other language is coming soon.
6. Computer Configurations:
Dell computer system will be delivered in standard accessories with hardness testing system, 3A hardness testing software is operating in English WIN10 OS.
---
7. Standard Delivery:
---
8. Optional Accessoreis Photos: