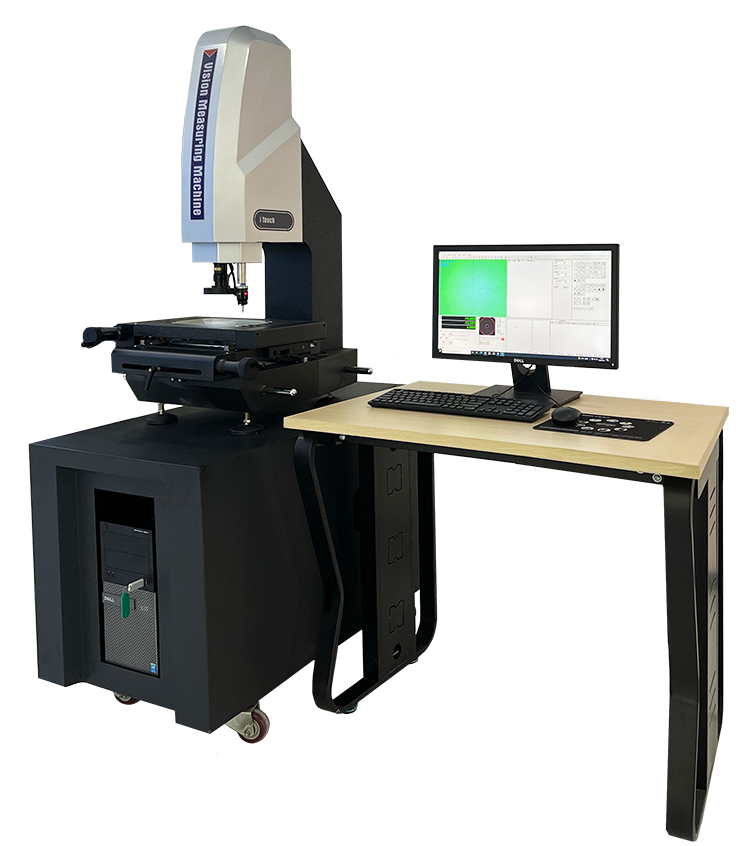 Sinowon iMS-2010 is multisensor vision coordinate measuring machine, it not only can measure the linear size, such as: point, line, cycle, arc, angle, rectangular hole, but also can measure the geometrical size, such as: straightness, flatness, circularity, cylindricity, perpendicularity, parallelism, angularity, concentricity, symmetry, position, profile, surface In the workshop and laboratory, most of measurement job can be done by multisensor measuring machine, it is widely applied to measure the dimension of Hardware, Mold, Machining, Precision Manufacturing, Automotive Parts, Stampings, Aerospace Components, Plastic & Rubber Products, Mobile Phone Industry, PCB Boards, Electronic Components, Semiconductor Components, Flat Glass (Touch Panels & LCD Panels), Medical Devices , tools and other fields, etc.
Product Characteristics
◆ Adopt high-precision granite base and column to ensure the stability and precision of the machine;
◆ Adopt high-precision toothless polished rod and fast-moving locking device to ensure that the return error of the table is within 2um;
◆ Adopt high-precision instrument optical ruler and precision worktable to ensure the accuracy of the machine is within ≤2.0+L/200um;
◆ Adopt high-definition zoom lens and high-resolution color digital camera to ensure clear picture quality without distortion;
◆ Using the program-controlled surface 4-ring 8-area LED cold illumination and Contour LED Parallel Illumination as well as a built-in intelligent light adjustment module, the area brightness of the light in the 4-ring 8-area can be freely controlled;
◆ iMeasuring Vision measurement software improves quality control to a new level;
◆ Optional contact probe and three-dimensional measurement software can be used to upgrade the machine to a contact three-dimensional measuring machine.
◆ It can be upgraded to install an autofocus function module to achieve accurate semi-automatic measurement.
Technical Specification
High-Precision Manual Vision Measuring Machine IMS-2010 Series

Commodity

2.5D

Vision Measuring Machine

3D Contact & Vision Measuring Machine

2.5D Semiautomatic Vision Measuring Machine

3D Semiautomatic Contact & Vision Measuring Machine

Product Type

A: Optical

Zoom-lens

Sensor

B: Zoom-lens Sensor and

Contact Probe Sensor

C: Zoom-lens Sensor and Z-axis

Autofocus Function

D: Zoom-lens Sensor, Contact Probe Sensor and Autofocus Function

Model

iMS-2010A

iMS-2010B

iMS-2010C

iMS-2010D

Code#

521-120E

521-220E

521-320E

521-420E

Measuring Software

iMeasuring

Marble Workbench

270x350mm

Glass Workbench

142x242mm

X/Y axis travel

200x100mm

Z-axis travel

High-precision linear guide, effective travel 200mm

X/Y/Z axis resolution

0.5um

Measurement Accuracy

XY axis: ≤2.0+L/200(um)

Z axis: ≤5.0+L/200(um)

Repeat Accuracy

2um

Pedestal and Uprights

High Precision Granite

Illumination System(Software Adjustment)

Surface 4 rings and 8 zones infinitely adjustable LED cold Illumination

Contour LED Parallel Illumination

Optional Coaxial Light

Digital Camera

1/2.9"/1.6Mpixel High Resolution Digital Camera

Zoom Lens

8.3X High-Resolution Electronic feedback zoom lens

Optical Magnification: 0.6X~5X times;

Video Magnification: 20X~170X

Operation System

Support WIN 10/11-32/64 Operating System

Language

English, Simplified Chinese, Traditional Chinese, Optional other language versions

Dimension (WxDxH)

677x552x998mm

Gross/Net Weight

220/150Kg
Note:
L represents the measurement length, in millimeters, the mechanical accuracy of the Z axis, and the focusing accuracy have a great relationship with the surface of the workpiece.
** Magnification is approximate and depends on monitor size and resolution.
Customers can choose additional mirrors 0.5X or 2X according to their needs to achieve image magnification: 13X~86X or 52X~344X.
Working environment: temperature 20℃±2℃, temperature change<1℃/Hr; humidity 30%~80%RH; vibration<0.02g's, ≤15Hz.
Configuration List

Model

Effective Measurement Travel mm

Dimensions (L*W*H) mm

X-axis

Y-axis

Z-axis

Machine dimensions

Package dimensions

Installation dimensions

IMS-2010

100mm

200mm

200mm

(677*552*998)mm

(1030*780*1260)mm

(850*1400*1720)mm

IMS-2515

150mm

250mm

200mm

(790*617*1000)mm

(1030*780*1260)mm

(850*1400*1720)mm

IMS-3020

200mm

300mm

200mm

(838*667*1000)mm

(1030*780*1260)mm

(850*1400*1720)mm

IMS-4030

300mm

400mm

200mm

(1002*817*1043)mm

(1130*1000*1270)mm

(1010*1460*1810)mm

IMS-5040

400mm

500mm

200mm

(1002*852*1085)mm

(1280*1070*1470)mm

(1110*1500*1850)mm